EXPERTS IN MARINE HATCHES
EXPERTS IN MARINE HATCHES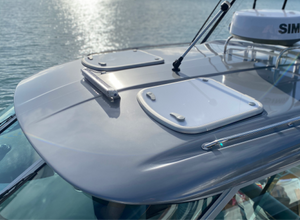 Custom hatch? No problem.
A custom Cule hatch will look better, function more effectively and can improve the value of your vessel. Cule Marine are uniquely positioned to deliver one-off or small production runs of hatches. With over 30 years of hatch-making experience, our team have handled almost every sensible variation on the hatch theme and have mastered the art of custom-building hatches.
Proudly local
Cule (pronouned 'cool') was established in 2007 to offer NZ's boat building industry the option of a premium-quality, NZ-made boat hatch. Today Cule Marine enjoys close working relationships with many of NZ's boat builders, designers and passionable boat owners as well as supporting NZ-based suppliers.
Our Director, Ursula Hanson was recently interviewed by M2 Magazine. Read her thoughts on running a business in the local marine sector here: